ART + MEDITATION + MASSAGE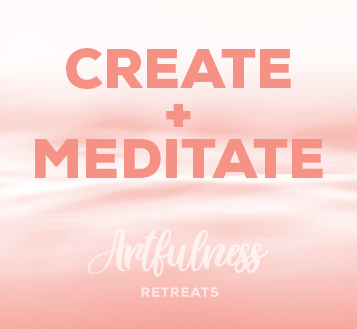 THE RETREAT
Your investment  $250-$1,149  |  Maximum 14 participants
Held in Lysterfield, 37km southeast of Melbourne, Victoria, our two-day weekend retreats will encompass our belief that there is an artist within all of us, we just need permission to find them.
Each retreat will include 4 art workshops, up to 5 meditation sessions, and you will be treated to a 30-minute shiatsu massage as a bonus. There will be breaks throughout the day for morning tea, lunch and afternoon tea.
The weekend is fully catered with a carefully selected (mainly) vegetarian menu to round out your experience.
ARRIVAL
Welcome
You can arrive at the retreat on Friday evening from 7 pm. This allows you time to settle in, meet the founder, and enjoy a simple supper and restful night before the workshops begin on Saturday morning.
You are welcome to arrive early on Saturday morning, but will need to be ready to start our first workshop on time.
ART WORKSHOPS
DAY 1
Workshop 1 – The child within
Remember the freedom of playing as a child? No self-criticism, no judgement and an overflowing imagination. This workshop will take you back to that feeling, giving you permission to make mistakes, although we believe in art, there are no mistakes. This workshop will help ease you out of your comfort zone and tap into the creativity within.
Workshop 2 – Chakra colours
Following on from a chakra cleansing meditation, we will look at the 7 chakra colours and create a beautiful watercolour piece to take home, reminding you of their meanings.
DAY 2
Workshop 3 – Mixed media memories
This workshop allows you to forget the stresses of your life and get into your flow, creating a beautiful piece using acrylic paint, inks, paper and items found in nature. We may even sprinkle a little glitter around! Your completed piece will certainly make a statement.
Workshop 4 – Words of wisdom
Using watercolour pencils and paints, we will create a decoratively framed word of wisdom. We will brainstorm various words that mean something special to you and then create a floral frame on watercolour paper to write your special word in.  This can then be placed in your home as a reminder that you have an artist inside you who has permission to use their creativity to help bring you back to calm whenever you need.
MEDITATIONS
DAY 1
Meditation 1 – Chakra Balancing Meditation
We will gently meditate on each major energy centre in our body (chakras). Starting at the root chakra, we will gently bring forward the stagnant energy that is causing the chakra to be imbalanced. We will then clear it & slowly balance ourselves, helping us think, feel & act in a more balanced & peaceful state.
Meditation 2 – Mindful Meditation
Using nature as our guide, we will bring awareness to self, opening up and using all of our senses. We will journey into all that is & bring peace from within.
DAY 2
Meditation 3 – Open Creative Juices Meditation
A quick meditation, focussing on the sacral chakra (creativity centre).  We will expand this energy centre, having balanced it the day before, so that we are free to create our own art without any restrictions from our subconscious mind.
Meditation 4 – Sound healing/meditation
Lie down & be taken on a magical journey with the sounds & vibrations of shamanic instruments, which help us enter other realms whilst in a hypnotic state. Here you will allow your spirit to be completely FREE. Taking you on a journey where you may receive healing & guidance through magical images & feelings given to you by beings of light – your spirit guides who love you unconditionally.
MASSAGE
Each participant will be treated to a half-hour shiatsu massage. You will have a 15-minute consultation with our shiatsu practitioner, followed by 30 minutes of bliss. You will remain clothed and covered with a blanket during your massage and treatment is done on a Japanese Style Futon. Comfortable, loose-fitting clothing is recommended.
These sessions are be pre-booked. Upon arrival at the retreat, you will be asked to select your preferred time and fill out a form for our practitioner.
You may need to step out of an art workshop to enjoy your massage but there will be plenty of time for you to complete your artwork over the course of the weekend.
About Shiatsu
Shiatsu, also known as 'finger pressure', is a holistic healing bodywork developed in Japan and based on theories of Traditional Chinese medicine. It stimulates the energy systems of the body to promote health and well-being.
Shiatsu supports and strengthens the body's natural ability to heal and balance itself. It works on the whole person; including physical, psychological, emotional and spiritual aspects of ourselves. It works on the autonomic nervous system; helping to release toxins and tension from the muscles, and can stimulate the hormonal system. The aim is not only to alleviate the immediate problem but to determine and treat the cause. Diagnostic skills and techniques are used to determine the course of treatment.
Shiatsu integrates meridian therapy, point selection, moxibustion, cupping, gua sha and corrective exercises as part of the healing process. The practitioner uses palms, fingers, thumbs, elbows, knees and even feet in a combination of massage techniques, applying pressure to key points to influence and stimulate energy flow in the body. Stretches are an integral part of a Shiatsu treatment as are lifestyle advice such as diet, yoga, meditation and exercise.
Get reacquainted with your creativity during our relaxing retreats
How can we help?
If you can't find the information you need in the FAQs, send us a message and we will get back to you soon.